WIND CONCERNS ONTARIO: On WordPress
From Kawartha Lakes, Cavan-Monaghan Council not buying wind developer myths about coal power, citizens demonstrate against wind power generation projects.
Wind farm developer met with protest in Cavan Monaghan
Roughly 200 residents gathered outside the Township offices to protest against proposed five-turbine wind farm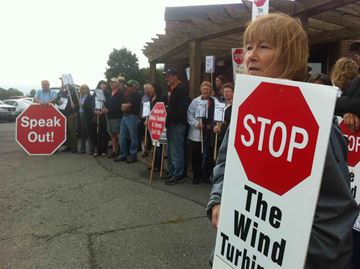 Cavan Monaghan Wind Farm Protest
Sarah Frank/This Week
Roughly 200 people showed up at the Cavan Monaghan Township offices on Tuesday (Sept 3) to protest against a proposed wind farm in the area. It would straddle Cavan Monaghan Township and the City of Kawartha Lakes.
Peterborough This Week
MILLBROOK — Met by an angry crowd and a team of disapproving Cavan Monaghan Township councillors, the developer of a proposed wind farm was sent a clear message on Tuesday (Sept. 3).
In town to make a delegation to the Township regarding a five-turbine wind farm that would overlook the Devil's Elbow skill hill area…
View original post 832 more words